Al Arabia Auto Maintenance Workshop: Your Trusted Partner for Premium Car Care
When it comes to maintaining your vehicle's peak performance, finding a reliable and professional auto maintenance workshop is crucial. Al Arabia Auto Maintenance Workshop stands out as a trusted name in the industry, offering expert solutions for all your car care needs. With a commitment to excellence and a team of skilled technicians, we ensure that your vehicle receives the attention it deserves.
Services We Offer
At Al Arabia Auto Maintenance Workshop, we offer a comprehensive range of services tailored to meet the specific requirements of each vehicle. From routine oil changes to complex engine diagnostics, our team is equipped to handle it all. Our service offerings include:
Engine Diagnostics and Repair
Our skilled technicians utilize state-of-the-art diagnostic tools to accurately identify and address any issues with your vehicle's engine. Whether it's a minor glitch or a major overhaul, we ensure that your engine performs at its best.
Routine Maintenance
Regular maintenance is the key to prolonging the life of your vehicle. Our workshop offers scheduled maintenance services, Maintenance Workshop including oil changes, fluid checks, and filter replacements, to keep your car running smoothly.
Brake and Suspension Services
Brakes and suspension are vital components for your safety on the road. Our experts conduct thorough inspections and provide precise repairs or replacements to ensure optimal braking and handling performance.
Electrical System Repairs
Modern vehicles heavily rely on complex electrical systems. Our technicians are skilled in diagnosing and repairing electrical issues, ensuring that all components, from lights to sensors, function flawlessly.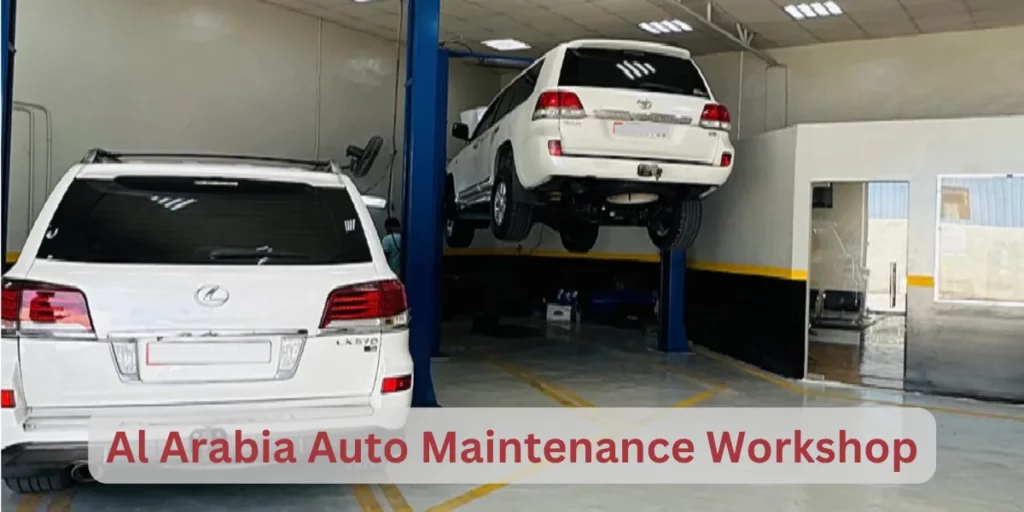 AC and Cooling System Maintenance
A well-functioning air conditioning and cooling system is essential, especially in hot climates. Our workshop offers services ranging from AC system checks to radiator repairs, keeping your driving experience comfortable.
Why Choose Al Arabia Auto Maintenance Workshop?
Expert Technicians
Our team consists of highly skilled technicians with extensive experience in the automotive industry. They are trained to handle a wide range of vehicle makes and models, ensuring that your car receives the best care possible.
Cutting-edge Equipment
We invest in the latest diagnostic tools and equipment to stay at the forefront of auto maintenance technology. This enables us to provide accurate diagnoses and efficient repairs, saving you time and money.
Transparent Communication
At Al Arabia Workshop, we believe in transparent and open communication with our clients. Before any work is done on your vehicle, we provide detailed explanations of the issues and the recommended solutions, empowering you to make informed decisions.
Customer Satisfaction
Our ultimate goal is your satisfaction. We strive to exceed your expectations by delivering high-quality services and a hassle-free experience. Your positive feedback and continued trust drive us to excel.
In the realm of auto maintenance, Al Arabia Auto Maintenance Workshop emerges as a reliable partner dedicated to keeping your vehicle in optimal condition. With a wide range of services, experienced technicians, and a commitment to customer satisfaction, we ensure that your car receives the care it deserves. Experience the difference of professionalism and excellence with Al Arabia Workshop. Your vehicle's well-being is our priority.
"Al Maha Auto Maintenance" : Al Maha Auto Maintenance offers top-tier car care solutions, catering to diverse vehicle needs. With a team of experts and modern facilities, they ensure your vehicle stays in prime condition, guaranteeing safety and performance
"Mr. Cap Nadd Al Hamar Dubai" : Mr. Cap Nadd Al Hamar Dubai is your go-to destination for automotive customization. From aesthetic upgrades to functional enhancements, they offer a range of options to personalize your vehicle, making it stand out on the road.